Whatever TVS does, it does it smartly. Be it a facelift of old bikes; be it the launch of new bikes; or be it the introduction of new technologies. Everything is a step up! TVS has once again done a spectacular launch and the name is Ronin.
TVS has bikes and scooters for commuting; for sporty lovers, there are bikes like Apache. The TVS lacked a cruiser bike for long-distance riders. Now TVS has brought that too. That's Ronin. Its brilliance lies in bringing it closer to a quarter-litre engine. If you want to compete with cruisers like the Yezdi Scrambler, Honda H'ness, Royal Enfield Meteor, it's okay to have a little less power. TVS has come up with the Ronin to appeal to the masses with style and price.
We went all the way to Goa to test-ride the new 225cc bike from TVS Ronin.
How is Ronin?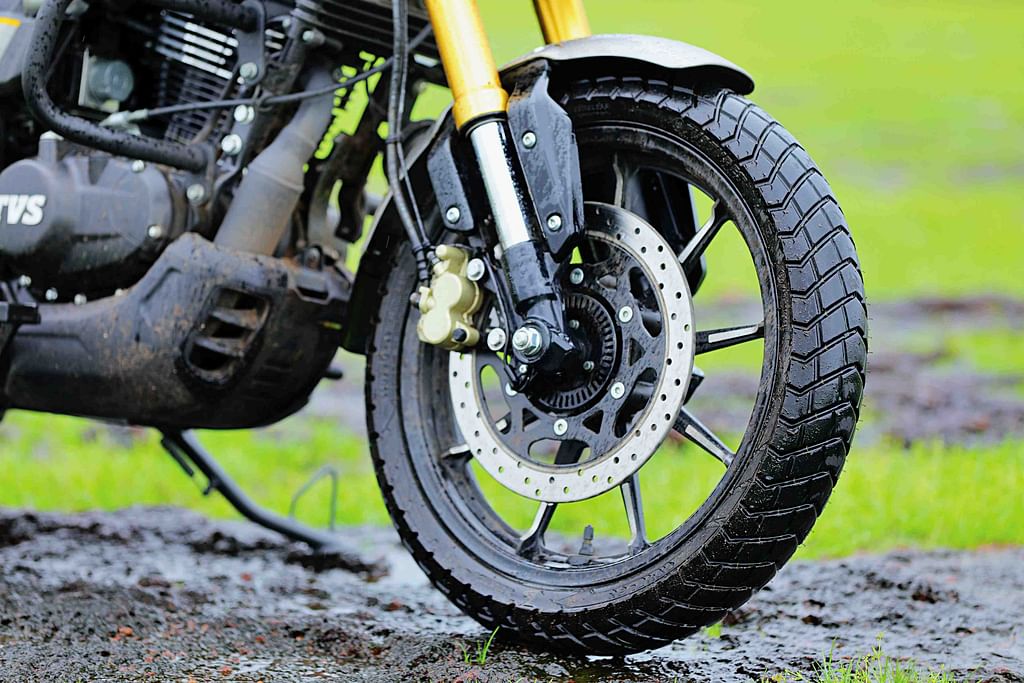 Design
4 years ago at the Auto Expo, in Delhi, they had a bike named Zeppelin on display at the TVS stall. That Zeppelin is now launched as Ronin. There are many changes in the design, though all the styling stuff for a cruiser is there. Starting with the seating position, foot pegs and handle bar, it is all visible. I really liked the headlight. Retro-styled circular headlight, and a T-shaped DRL is awesome. This is innovative. The upside-down forks shining in gold. It's a sight to behold. It is also stylish. Its size is 41mm. Its handlebar is called a swept-back bar. This is ideal for long-distance cruising. It has a 14-litre tank capacity. The grip is good for the thighs. The design of these alloy wheels reminded me of Harley Davidson cruiser bikes.
Its single-dial instrument cluster has a semi-retro design. It is inspired by the Ducati Scrambler. The rear grab rail was rather mundane. But if you don't like it, you can remove it. This LED tail light is awesome. It's great that it's integrated into the rear subframe. Mirrors are nice and smart looking. Its arrow-shaped LED indicators give it a premium feel. For the money we pay, the fit and finish and quality of this bike is excellent.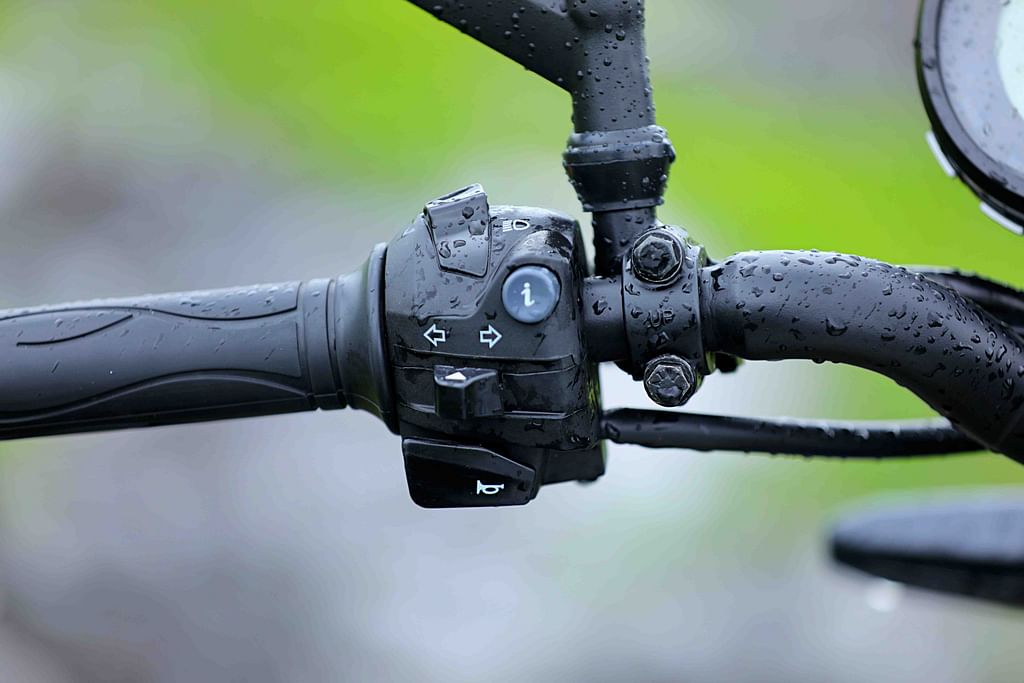 Overall, the Ronin shines as a superb cruiser with a neo-retro modern style.
Engine Performance…
How about in the city… how about on the highways?
It has a 225cc engine. When we saw the 2018 concept, the Zeppelin, it had a hybrid powertrain. Perhaps, I thought, it would continue in Ronin. Otherwise, it is the same 225cc engine featured in the Zeppelin. This engine has a bore and stroke of 66mm. Nowadays it's respectable if it comes with 4-valves; this Ronin also has 4 valves. 2 for the inlet; 2 for the exhaust. It is a single-cylinder engine. Fortunately, they have given oil-cooling instead of air-cooling. The same 5-speed gearbox as the Apache 200 sends power to the rear wheel.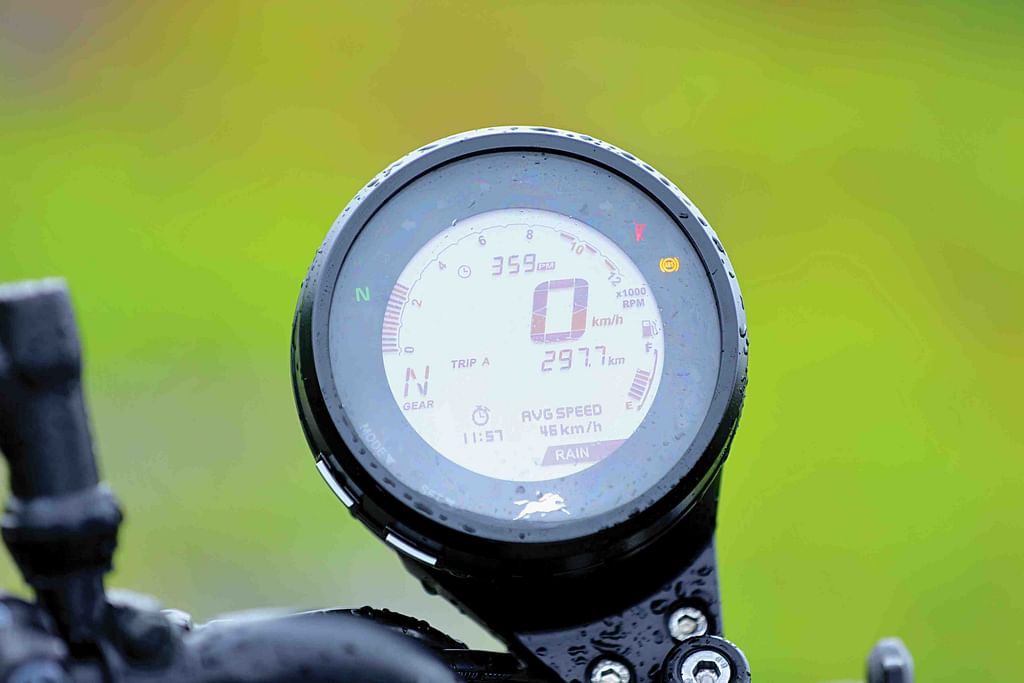 It makes 20.4 bhp @ 7,500rpm. Its torque is almost the same! It delivers 19.93 Nm @ 3,750 rpm of torque. Even though this power is less for this cruiser. Its performance in the city is on another level. What surprised us was the roar of this motorcycle in the traffic. I mean, its low-end performance is awesome! This is due to the short gearing setup and the linear power delivery. It should be noted that its peak torque is available at 3,750 rpm. Ronin gives a feeling of riding a Bullet. For example, the Bullet 350 Classic delivers peak torque at 4,000rm. Admittedly, Bullet's delivery is 35% higher than this, although Ronin comes close.
Even though the Bullet power delivery is on par, you can tell it's a TVS bike by its exhaust. Its engine is very smooth. The exhaust note was also very sweet.
Like some small scooters and commuters, it has a silent start system. That's why riding this Ronin feels like riding a quiet cruiser. I mean, this Ronin would be the humble guy for peace lovers.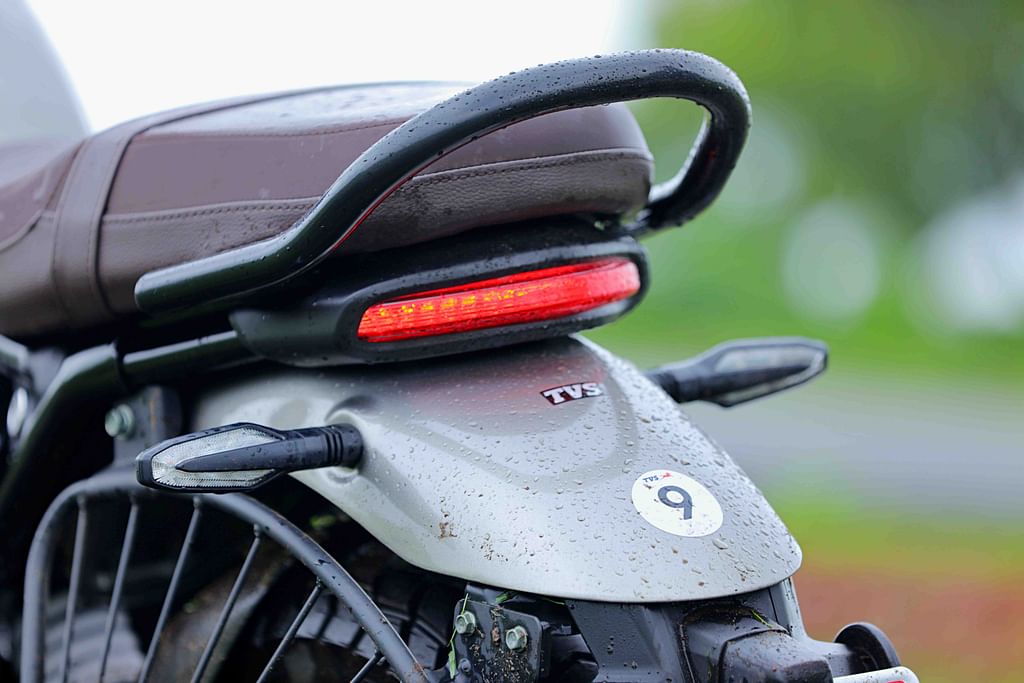 Its performance is smooth even in high gears at the low end! Starts with a bang from 3,000rpm. For example, I accelerate a little in top gear and reach 20 kmph. Tried downshifting to 3rd gear. Does not shift from 3rd gear. However, the response did not sag even when throttled over 20 kmph. This is what City Riders need!
The Ronin blends into the city with some smart work done by giving it a bigger rear sprocket like the KTM.
This Ronin, which has a great low end, shows a little slack when it comes to high-end performance. Ronin flies at 80 – 90 kmph without any lag. Even after 100 kmph, no fatigue is felt. TVS claims a top speed of 120 kmph. If you want 110 kmph, you can go. Even with revs up to 9,000rpm, going beyond 8,000rpm seemed pointless. If so, TVS still needs to pass marks on-highway performance.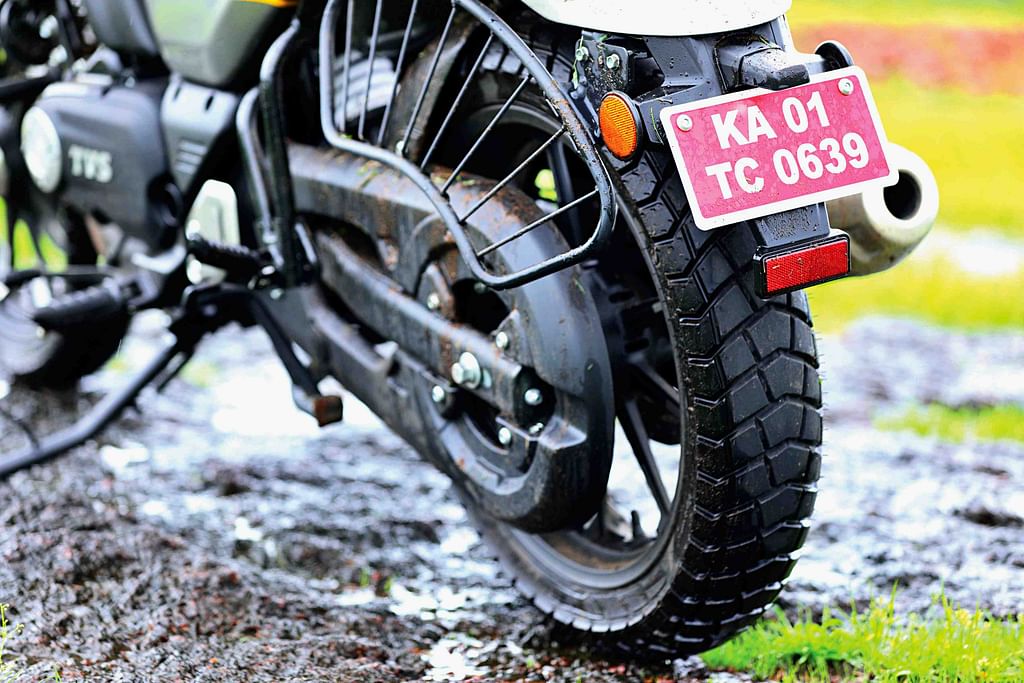 But we can't blame TVS for understating this. The reason is that TVS Ronin has already said that a high-speed bike is not their goal.
Ride and Handling
When it comes to this, weight is the number one thing. Its weight is 160 kg, which isn't too much. The double-cradle chassis is what makes this bike so good. These 41mm USD forks are on the expensive Rs 3 lakh Apache RR310 bike. But the Ronin has fine-tuned the spring and damper setup for cruising, resulting in excellent handling. This damping setup is similar to that found on dirt bikes. They have given mono shock suspension at the rear. Ronin grippy even in the rain.
Its seat height is very comfortable for short people as well. 795 mm in height. Its ground clearance is 181 mm. It also excels off-road. Going off-road with a slightly upright handlebar position is like going dirt racing on a dirt bike. But it is not a complete off-roader. We can say it is more of a Scrambler.
Another aid to ride and handling is its slipper clutch. This helps prevent wheel spin by engine braking when reducing speeds. It includes both single-channel ABS and dual-channel ABS options.
Features and ergonomics
A wealth of information is available in this single round-shaped instrument cluster. It is also easy to read. Perhaps the most important feature is the slipper clutch. This is what bikes like KTM have. Hazard lights have been provided as usual. Also, fortunately, this big bike also has a side stand engine cut-off feature.
It has 2 riding modes. These only affect the sensitivity of the ABS. They have given single-channel ABS for the entry and mid variants and dual-channel ABS for the top variant. We can connect this bike to our phone and run it through the TVS app. Yes, it's a connected smart bike!