This winter, feast yourself to a road trip of a lifetime. Enjoy the royalty, culture, traditions, monuments, forts, desert and temples of Rajasthan. The cold months of North India is perfect to visit this state dripping with history.
Rajasthan's topography varies from the Thar Desert in the west, which it is most famous for. But it is also home to the Aravalli Mountain Range, which is the oldest mountain range in India. The state which accounts for 11% of the country's geographical area has wetlands, plateaus, ravines and wooded regions as well.
Temperatures in the summer will make a road trip extremely unpleasant, which is why touring in the winters is ideal. The route we have planned out for you will take you through the green part of Rajasthan in the east, the Aravallis around Udaipur, the Thar Desert in the west bordering Pakistan and ends back where we start in Jaipur.
Getting Started
How you plan your Rajasthan road trip, depends a lot on where you live. For those residing in neighbouring states, driving down makes a lot of sense. But for those travelling from the south or north-east parts of India, or even abroad, then flying to Jaipur makes more sense.
For those flying in for this road trip, Jaipur has a number of options for renting out self-drive cars and bikes. While that is not quite the same joy as your own machine, but still, it is a worthwhile option.
Weather
Winter in Rajasthan is cold. You need decent warm clothing, as you move around to see the sights. The cold wind which blows across the barren desert can chill you to your bones in quick time. Dress up in layers, so that you can be comfortable throughout the day as the temperature fluctuates.
Temperatures range between low single digits to around 20 degrees in the day during peak winter. There is also fog to be contended with when driving through dawn. Avoid driving in foggy conditions and you will reduce road risk considerably. This translates into reduced number of hours that you can actually spend on the road. Which is an important consideration when planning your start and end times for each day.
Best time to do a road trip in Rajasthan is from October to February. Winter is harshest in January and temperatures can be close to zero in the desert at night.
Route
Here's your route which will give you a slice of every version of Rajasthan. You will be covering roughly 2000 km as you see changing landscapes. For the sake of convenience, we have started the circuit in Jaipur, you can tweak it according to the direction you are driving to Rajasthan from.
Jaipur – Bundi – Chittorgarh – Udaipur – Ranakpur – Jodhpur – Barmer – Jaisalmer – Pokhran – Bikaner – Khimsar – Pushkar – Sambhar – Jaipur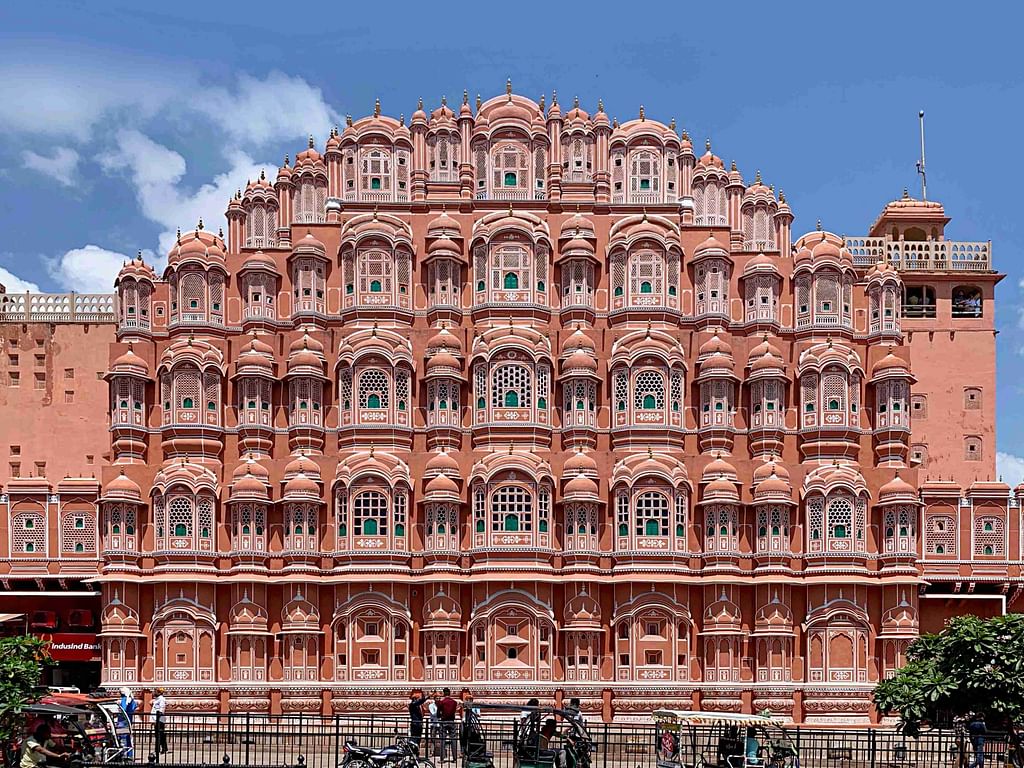 Jaipur
Capital of the state, there is no better place to kick start this adventure than the Pink City. The city thrives on tourism, so you will easily find all amenities and facilities as an outsider. Jaipur has much to offer, including forts, food, traditional markets, and palaces. These are some of the places we recommend visiting when in Jaipur: Nahargarh Fort, Hawa Mahal, Amer Fort, Jal Mahal, City Palace, Johaari Bazaar, and Chokhi Dhani for traditional food.
As you can see there is a lot for you to do in Jaipur before you start your road trip.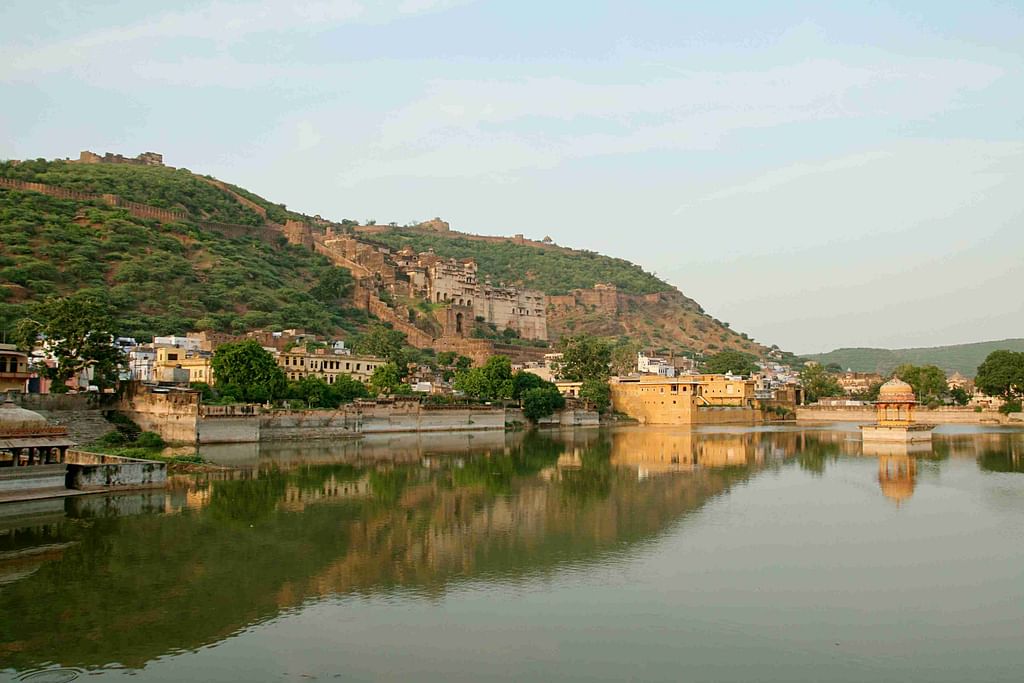 Bundi
Your first halt after Jaipur is Bundi, at 214 km, on the eastern part of Rajasthan which borders Madhya Pradesh. As such you will find it to be much greener than what we generally expect Rajasthan to be. On one side you have the Aravalli range and on the other fields of cotton, barley and wheat. While the city itself has numerous fruit orchards.
Bundi, often called the 'City of Stepwells' has a number of them in the old city. There are many attractions in Bundi, but just a casual walk through the 'bluish' old city gives you a brush with bygone eras. Due to its proximity to the much larger city of Kota, Bundi has stayed relatively rustic and therefore an incredible experience.
In Bundi, you can visit, Raniji ki Baori, Dhabhai Kund, Nagar Sagar Kund, Taragarh Fort and the adjoining Jait Sagar Lake, Garh Palace and Chhatr Palace. A full day's worth of hopping around town!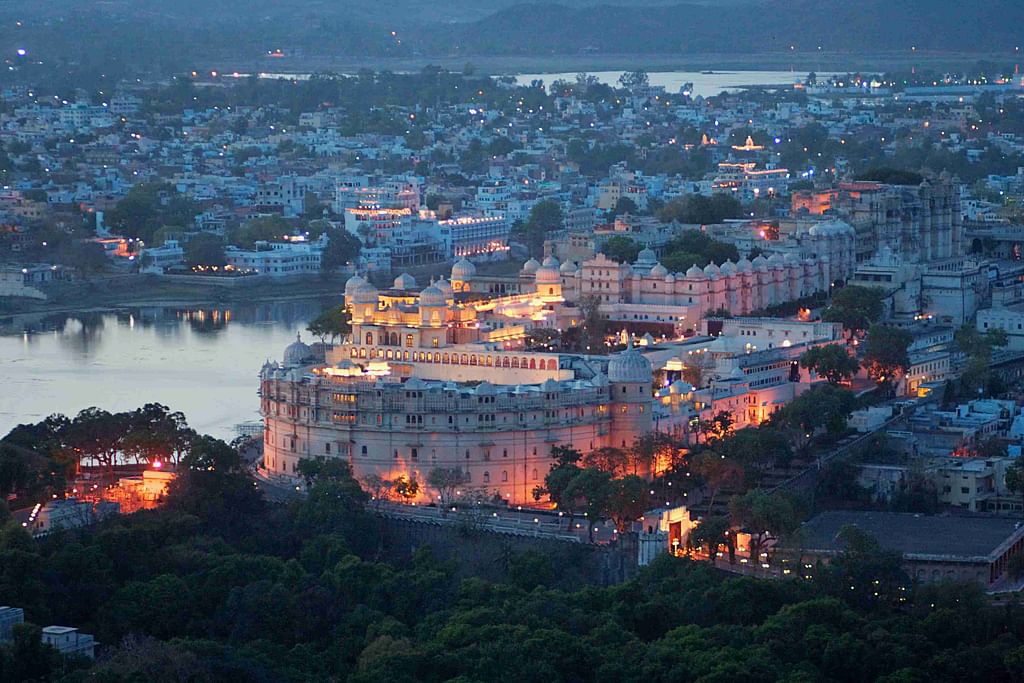 Udaipur (via Chittorgarh)
Bundi to Udaipur is 265 km with Chittorgarh a little more than the halfway mark. Chittorgarh like most Rajasthani cities has a number of places to visit. But we recommend visiting the centre of attraction, the Chittorgarh Fort. Often referred to as the finest fort of India.
The fort rests on a 180-metre-high hill and is spread across a mammoth 700 acres. It is steeped in history and battles from the past. Within the fort itself there is a lot to see and absorb and you will end up spending a few hours taking it all in.
After spending much of the day at Chittorgarh you drive onwards to the lake city of Udaipur. Udaipur is the promised oasis in the desert. It is filled with greenery of the Aravallis and lakes in the valleys between all the hills. This city which was founded in 1553 has a number of lakes and palaces for you to visit.
In Udaipur, Lake Palace, Monsoon Palace, Fateh Sagar, Lake Pichola, Udai Sagar, Doodh Talai and Jaisamand Lake are must visit places.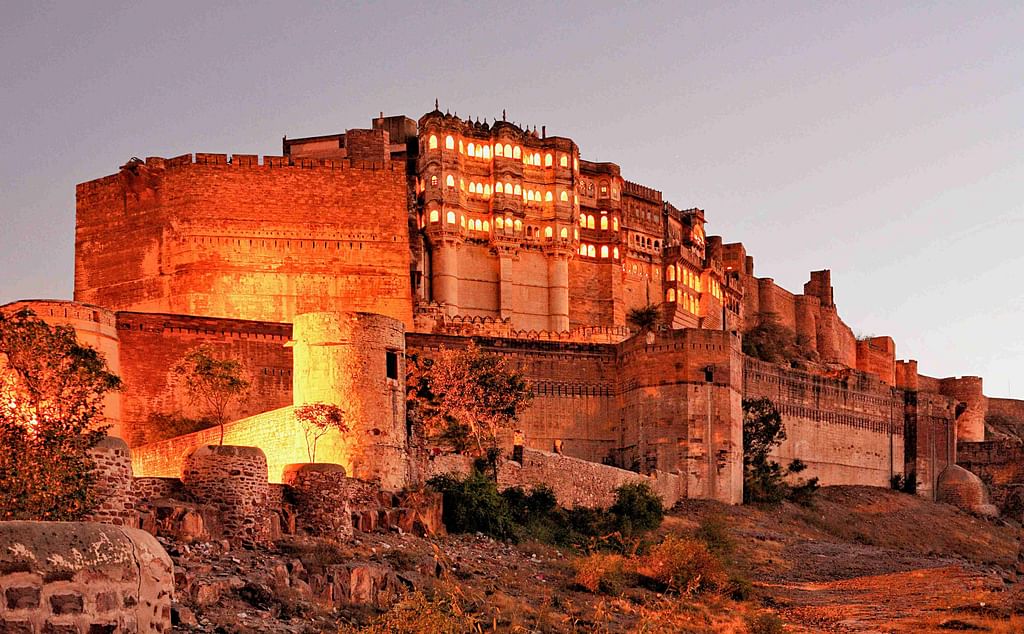 Jodhpur (via Ranakpur)
From Udaipur it is a 250 km ride to Jodhpur with Ranakpur around 100 km from your start point. Ranakpur is the last of the Aravallis you will see and as you drive you will notice the landscapes suddenly changing from green to barren. Such views are best enjoyed from your vehicle.
On your route from Udaipur to Jodhpur do stop over to immerse yourself in the splendour of Ranakpur Temple. It is a 15th century Jain temple on the banks of Maghai River. The temple is famous for its 1444 intricately carved pillars, with each pillar unique in its design. After being mesmerised by this structure, which took 50 years to build, you then drive onwards to Jodhpur.
The Blue City of Jodhpur invites you to traditional Rajasthan. Houses, temples, forts, palaces and havelis sport different hues of blue, giving the city its title. The cynosure of the city is Mehrangarh Fort, which towers majestically over its populace. In the fort you can experience the beautiful Moti Mahal, Phool Mahal and Sheesh Mahal. Besides the fort, don't forget to check out Umaid Bhawan and Jaswant Thada which has a museum within. The museum allows you to delve into the past of the land of Marwar.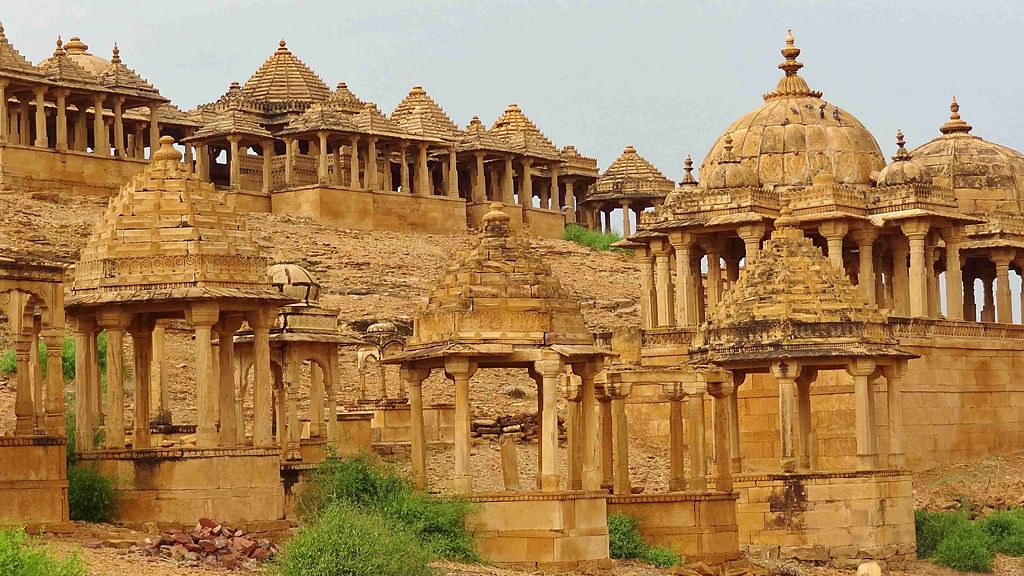 Jaisalmer
From Jodhpur you go northwest to the city of Jaisalmer. We recommend taking the longer route via Barmer which is 330 km, as you will get to enjoy the raw beauty of the Thar Desert in its full glory. Along the way we suggest a quick pitstop near Barmer to check out the Juna Fort and Kiradu Temples, before heading on to Jaisalmer. The extra distance is well worth it.
Jaisalmer is home to the only living fort in India, Sonar Quila, as it is called, it has people living and working there as they did decades previously. It is a tiny window into the past. Different from other cities of Rajasthan, near Jaisalmer you can visit the Akal Wood Fossil Park, which has fossils from 180 million years ago. A time when this place wasn't an arid desert but a rich forest. You will see this as you drive towards Jaisalmer from Barmer.
Other incredible experiences to be had at are the Desert National Park for desert fauna and the Bada Bagh for its sunset. Don't forget the numerous havelis of the land and if you get a chance, do attend the Light & Sound show at Gadisar Lake.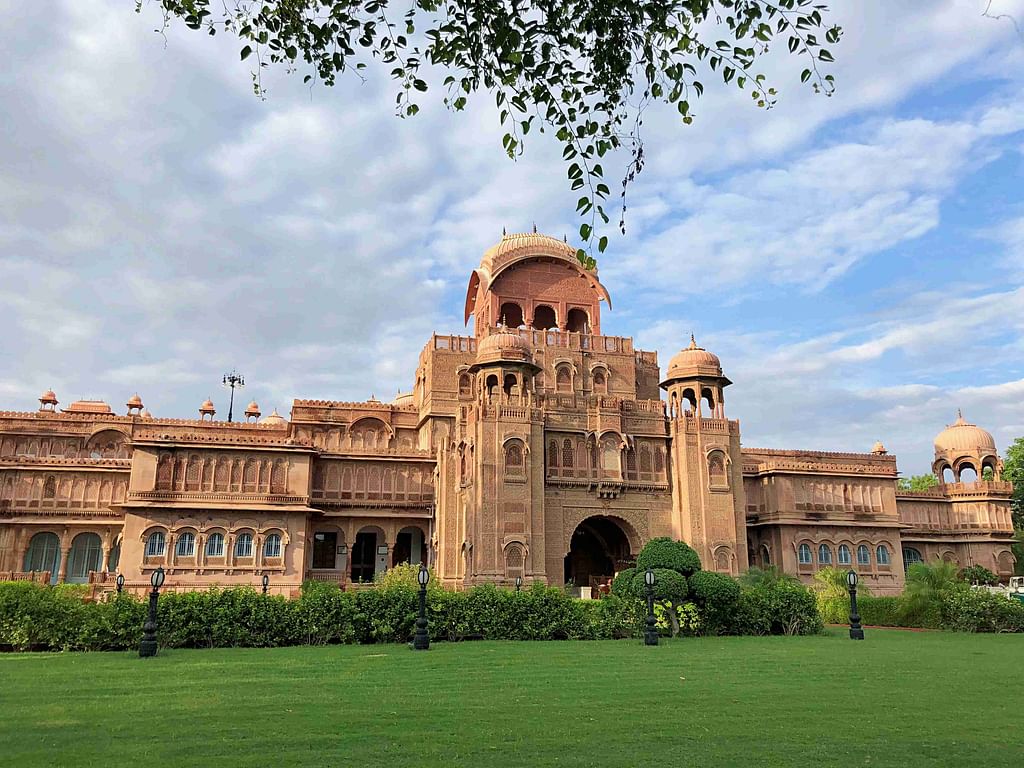 Bikaner
The city of Bikaner is 330 km from Jaisalmer and you will drive past Pokhran. The place where India tested its nuclear missiles underground.
Camel country is the phrase that best describes Bikaner. Here you find the 'National Research Centre on Camel' and also find some of the best camels in this city. The city also has a number of tourist attractions which are well worth spending time at. Junagarh Fort, Laxmi Niwas Palace, Lalgarh Palace are great places to indulge yourself in the rich culture of northern Rajasthan.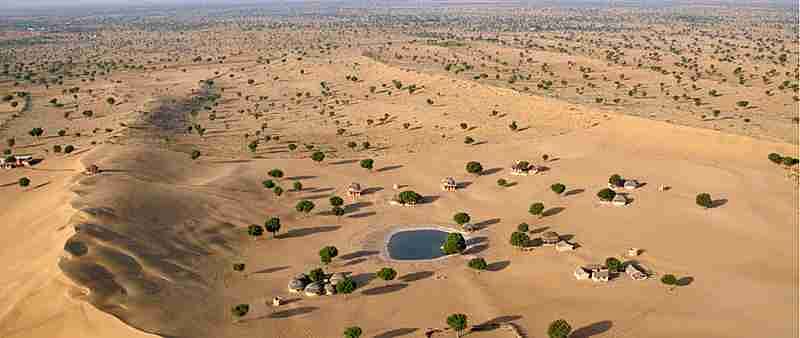 Khimsar
Just 150 km from Bikaner is the tiny town of Khimsar. Awaiting you here is an entirely different experience of Rajasthan than you would have had during this road trip.
Khimsar is known for the Khimsar Dunes Village. It is a perfect getaway from the rest of the world! Nestled in the midst of sand dunes, you can stay in one of the many eco-huts. Safaris, camel rides and desert adventures are the perfect experience in these sandy dunes.
Along the way you can also visit the Nagaur Fort in the neighbouring town of Nagaur.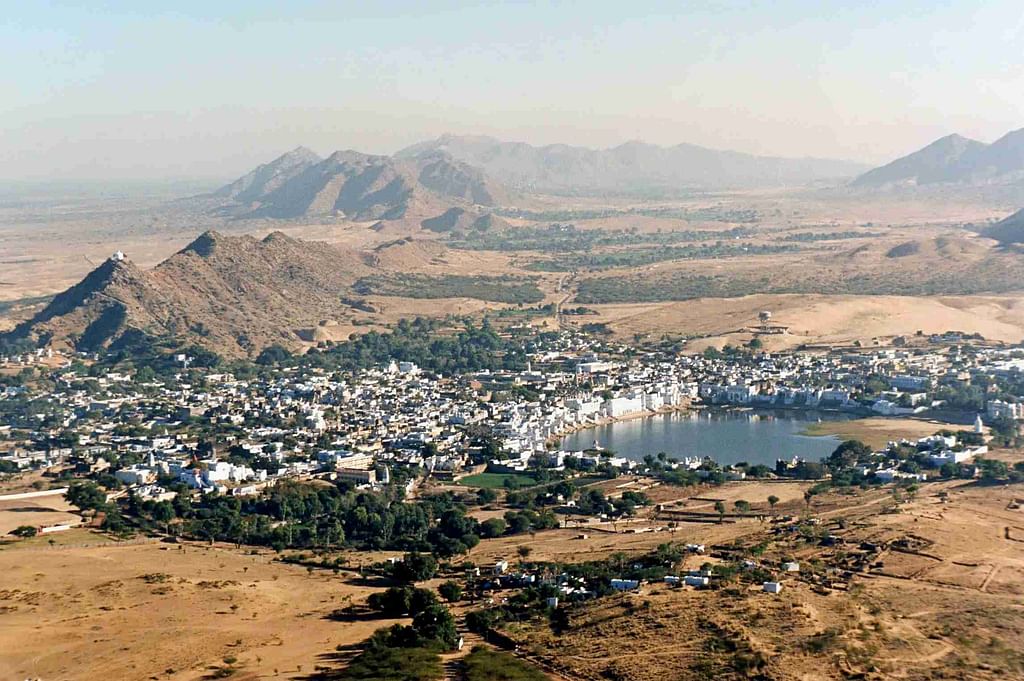 Pushkar/ Ajmer
From Khimsar you go to one of the jewels of Rajasthan, Pushkar, one of the most well-known towns of the state. At just 180 km of driving distance, you will reach Pushkar early enough to explore the town, as well as neighbouring Ajmer. Said to be one of the oldest towns of the country, Pushkar is famous for its cattle fair, which sees tourists visiting it from around the world.
If your road trip is timed around the cattle fair, then you will have an incredible experience of Rajasthan in the heart of Pushkar. Even otherwise, you can enjoy the scenic Pushkar Lake and the Brahma Temple, the only temple in the world dedicated to Brahma.
South of Pushkar across the hill range lies the city of Ajmer. Ajmer is home to the Ana Sagar, Ajmer Sharif Dargah and Adhai Din ka Jhonpda.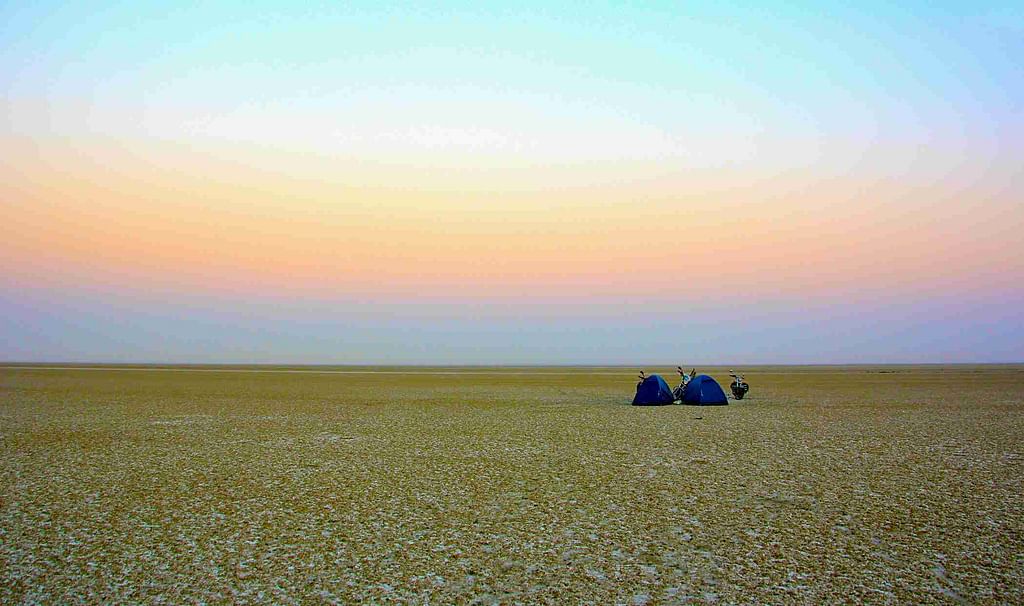 Jaipur (via Sambhar Lake)
Finally, it is time to round up your road trip with a return to the state capital of Jaipur. But not without a detour to Sambhar Lake, a fascinating place for automobile enthusiasts.
Sambhar Lake is India's largest inland salt lake, akin to the famous Bonneville Salt Flats in the USA, which is used for setting land speed records in a variety of automobiles. Salt has been farmed at this lake for the last 1000 years at least and currently makes up for around 9% of the country's salt production. The spectacular sight of this salt lake will stay in your mind for years to come, as frankly there is nothing quite as mesmerising as seeing white for miles at a stretch.
After visiting the basic ingredient of food, salt, you then drive back to Jaipur, clocking an easy 170 km for the day.
This 2000 km drive around Rajasthan will take you across, covering every kind of topography, culture, cuisine and architecture of the state. Get your engines revving, it is time to enjoy Rajasthan this winter.